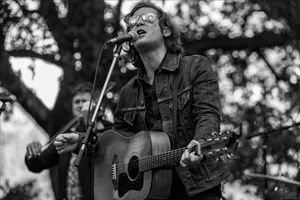 Bio
Paul Givant was born and bred on the fringes of Los Angeles, shaped musically and spiritually by the valleys and hills of Southern California, its diverse extremes of culture and geography, and its edge-of-the-earth vibe as a mecca for lost souls and lonely hearts, wandering artists and wannabe mystics, folk heroes and rock-and-roll rebels. 
Since 2006 Givant has helmed Rose's Pawn Shop, releasing 3 studio albums and touring relentlessly, growing a fan base drawn to its critically-acclaimed sound — a unique and soulful, energetic tangle of folk, Americana, rock, and punk roots, complex vocal harmonies, driving beats and heartache-forged lyrics. 
After working with Grammy-winning producer Ted Hutt (Old Crow Medicine Show, Dropkick Murphys, Flogging Molly, Gaslight Anthem etc) on RPS's third album Gravity Well and surviving more than a few dark nights of the soul on the far edges of downtown LA, Givant began to explore more deeply his own personal experiences and history, excavating the raw material that informs his debut solo album Fashion District Adjacent. 
Givant's songs are lyrically sharp, witty, intelligent, and wryly self-aware and his broad instrumental and stylistic versatility draw on elements from his past work and expand them, pushing and blending the boundaries of genre to make Fashion District Adjacent a uniquely personal but relatable chronicle of love and loss, survival through the end of one world and living on into the next.